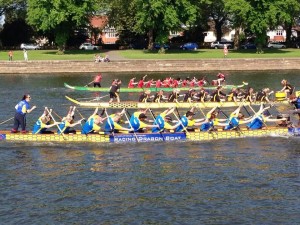 Powerhouse Dragonboat Racing Club are offering you the opportunity to raise money for your chosen charity by entering a Dragonboat race on the River Tees in Stockton on April 11th 2015. You can enter up to 4 crews of 11 people (10 paddlers and a drummer) into the race against other charities in the area.
It's £150 per crew, per entry, and you get a training session with the club (to be booked once registered to race) within the cost, so your team can be 'race ready'.
All participants should be 13years and over, be able to swim and wear gym like clothing to take part.
Dragonboating Charity River Race 2015
For more information contact us on the following form: